Water mist cooling indoors and outdoors: with Cool Cloud Systems
Water mist cooling is an environmentally friendly and efficient way to keep flies, mozzies and especially mosquitoes at bay. These animals avoid this fog curtain. It also helps to reduce the air temperature by up to 12°C.
Water is atomised micro-fine from nozzles at high pressure – approx. 70 bar – and the microscopically small droplets evaporate immediately. They extract heat from the ambient air, creating evaporative cooling. In addition to cooling, the air is pleasantly humidified – excessively dry air is prevented.
We now offer these systems in cooperation with Cool Cloud Systems. The systems are suitable for private, industrial and gastronomic use.
More information about the products: https://www.coolcloudsystems.com/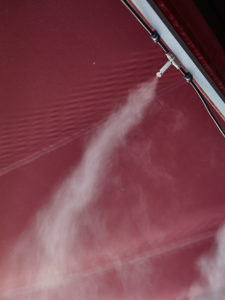 Further up-to-date information:

Showroom:
Ronda de Migjorn 74
07620 Llucmajor
Mallorca
Tel. +34 971 01 77 66
Email. office@1-bbq-house.com
Opening hours:
Monday to Friday from 10am to 5pm
Outside opening hours:
Appointments by arrangement